Welcome To Our Home Page!
Located in West Tennessee, 80 miles from Memphis 'The BBQ Pit Stop Cooking Team' is in the heart of BBQ country. Our little venture started out over 10 years ago by erecting an above ground pit in the back yard and smoking a shoulder. The pit grew bigger and shoulders soon shared the smoke with chicken and ribs. Family and friends fueled the fire by wanting us to help with parties and family renunions, so the need to become mobile arose. Our smoker was designed and built by the team in an effort to make our trips to cookouts and competitions as self sufficent as possible.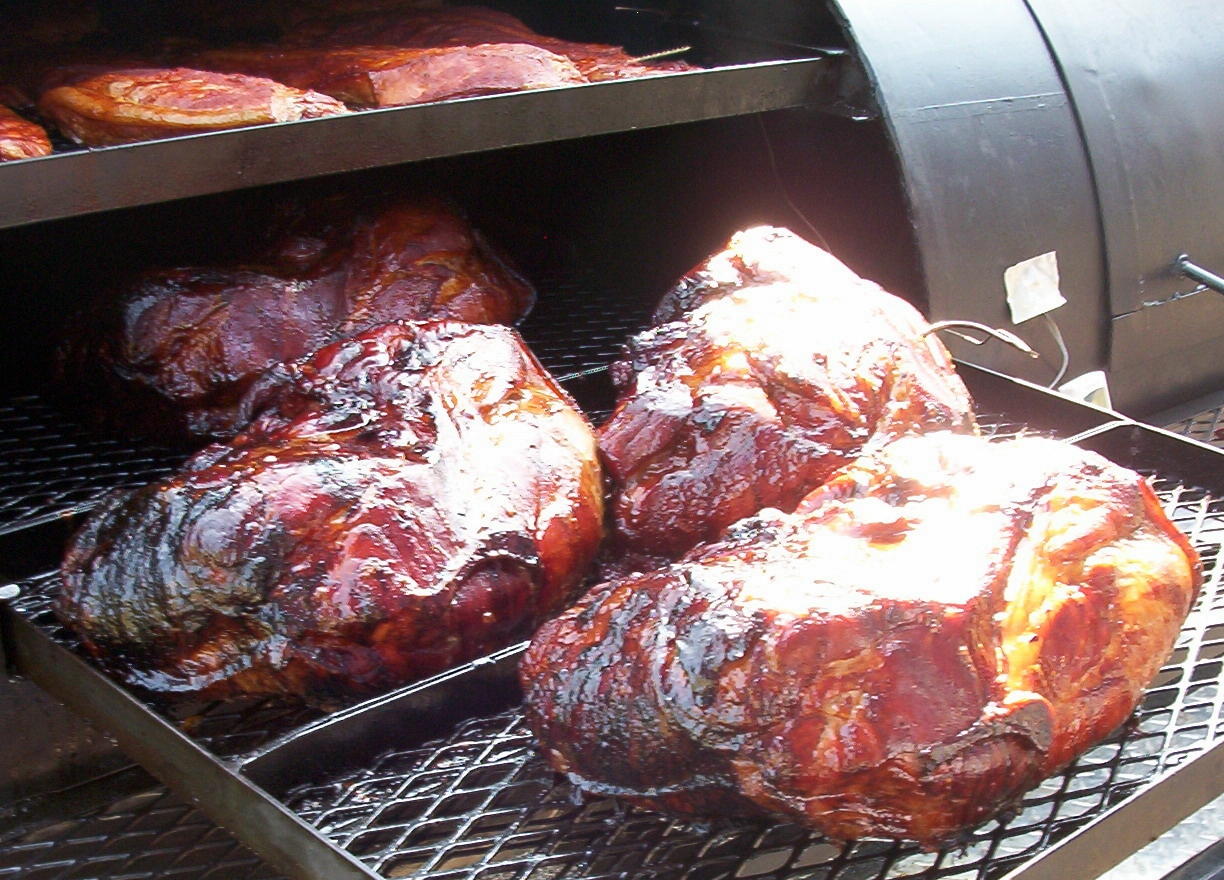 Building The Smoker
Our smoker is made from an old 500 gallon propane tank. After the tank was cleaned and purged of any remaining propane residue the doors were marked and cut and the fitting of the hinges and slide racks began. The smoker has two large slide out racks per side which can hold over 100 lbs of meat each and still slide freely.

What started as enjoying a weekend cookout on the patio grew to a make-shift above ground pit, a double barrel smoker and finally into the large smoker you see below.
An offset firebox design was choosen to keep the fire and heat from being directly under the meat. This lessenes the chance of buring food over the long cooking sessions. By using a reverse flow design we are able to control the smoke flavor in the meat while also maintaining the cooking temperatures within 5 - 10 degrees from one end of the smoker to the other. The firebox was also insulated to help control heat loss while the 5 inch stacks help create a natural exhaust draw that pulls the heat and smoke quickly into the cooking chamber. The cooker can usually be brought up to 250 degrees in a few minutes with one 15 lb bag of instant lite charcoal.
For additional BBQ'n information please visit the following sites:
The National Barbecue News Kansas City Barbeque Society
http://www.barbecuenews.com http://www.kcbs.us/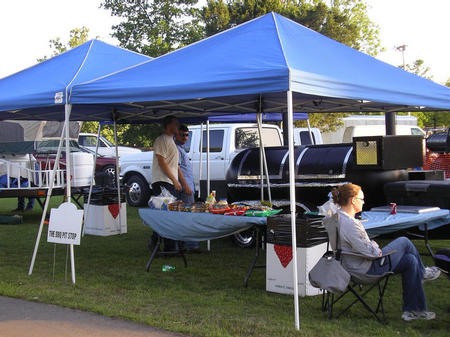 Feeding the Team
Getting our meal ready to eat before the team starts settling in for a long night of cooking at a local competition.
Questions or comments, E-mail us at:
bbqpittstop@yahoo.com